Lessons&Workshops Portrait Painter Liseth Visser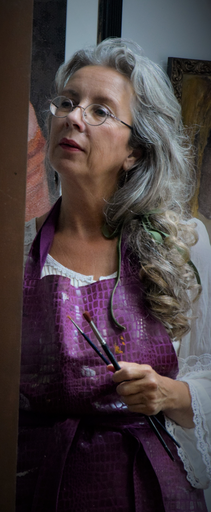 Liseth Visser Portrait Painter
Out of love for her profession Liseth spends a bit of her time passing on the old painting techniques to those who are interested in them. 'If you like to take part in one of the options below, please contact me, I'll gladly teach you what I know"!
PAINTING CLASSES; During the lessons, lots of attention will be payed to processes, procedures and the characteristics of traditional oil painting. The students can choose their portrait subject freely, but should keep in mind that free expression art will turn out to be less eligible with the lessons' nature.
All professional painting materials are included and personal attention is guaranteed by limiting the group size to a maximum of 4 or 5 students per session.
WORKSHOPS; During the year Liseth will organize some daylong (theme) workshops. Again painting materials - and a nice healthy lunch- will be included.
Please find up-to-date date-options on the Dutch Les & Workshop page. AND A 2-MINUTE-PORTRAITSCHOOL-IMPRESSION-VIDEO below;